1.Why do people make website?
People often make websites as a mere visiting card presence or to tell anyone they meet that they own a website. 
2. How do business people get the website done?
Most business owners think that a website should have Home/ Products Services Details/ Contact Information. They look for good images and some animations, and basic functionality to make a website appear good.
3. What do they do once the website is ready? 
Once its ready they print it on their visiting cards or share in their networks and they leave it there. How are potential customers to find you?
4. How do the business owners get the website managed?
They leave it to the mercy of their web developer teams, without noting down the needed information, and ownership access. Either they continue paying the AMC and hosting cost year after year, or they skip paying their agency to see one fine day that their website is not working. 
Following are the right parameters that you need to take care of while getting a business website done: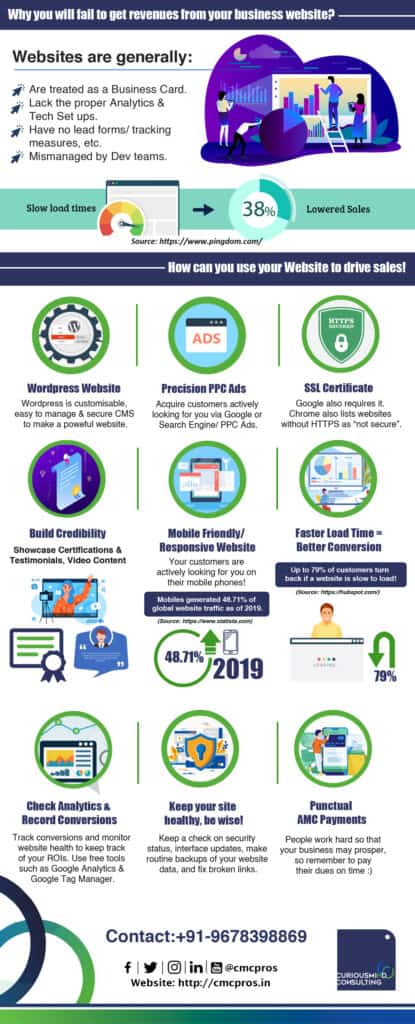 Make your website so that it brings back revenues and the only way to do it is to get the right traffic on it and what will bring the right traffic to your website? It is PPC ads- via google ads or Facebook PPC ads. There are other marketing strategies to generate leads or online conversions.
While choosing to get a website done, choose the right CMS. It can be a WordPress Website. WordPress is the most popular platform to get your website done on. See to it that the content is well-designed to attract the right customers, and it gives them the needed information and trust to do business with you. Use testimonials, credibility building factors, etc.
Make sure your website has an SSL Certificate. An SSL certificate is a security certificate that allows a secure connection between a computer and a web server. It makes your website secure. Google requires your website to have SSL. Chrome also lists websites without HTTPS as "not secure".
Make sure your website is having a Responsive Web design so that it opens easily on mobile. Most of your customers are searching for businesses like yours from their mobile devices.
Make sure the website speed is good. Statistics show that it has a direct impact on the conversion rate. Moreover, Google and other search engines penalise websites with poor speed, and even customers go away! 
If your website sees good traffic, create an AMP- Accelerated Mobile Pages.
See to it that your website is well monitored, conversions set up and tracked and analytics measured. 
Do not forget to use PPC ads to get the desired business goals and open up business opportunities. A website simply made live is like a ghost town. Drive the intent-driven traffic to your website via Google Ads. 
Rember to get the proper AMC done for your website which includes Security,  Theme & Plugin Updates, routine backups of your website data, monitoring and fixing broken links and other errors. 
Remember to keep all the sign in's / admin access with you for security. 
And pay your Agency in a timely fashion to avoid any disturbances in services.
Looking for a Website Development Company?
Book Your Free Website Audit With us! Call +91 – 96783-98869
You Can Read Our Blogs Here –
19 Pay-Per-Click Tools that will make your Google Ads pay-off better.
https://cmcpros.in/19-pay-per-click-tools-that-will-make-your-google-ads-pay-off-better/