Facebook Ads Center & Facebook Ads Manager: KNOW Top differences, And When to use and what do you need TO DO!
Ads Centre vrs Ads Manager: Know Variety of Differences
Ace paid marketing managers and the naive ones (please do not get offended) do the similar things , but they do it differently. One point of differentiation is the intricate techniques, matched to understanding of the consumer behaviour. This articles brings about one tool which different digital marketers use differently. Here is our comparison of the Facebook Ad Center Vs Facebook Ads Manager so that you take a refined choice as an advertiser, and a defined decision as a business owner, on which team to rely. This is a suggestive content and managing each of them requires an expertise and ongoing learning on its own. Know variety of differences between Ads Centre Ads Manager
1.    Where does it sit? You can find Facebook Ads Manager on the bottom left side of the FB home menu. While FB Ads Centre you will find it on the top of any Facebook page, IT'S NEW!!.
2.    In Facebook Ad Centre a boosted post is a post to your Page's timeline that you can apply money to and as a result it boosts it to an audience of your choosing. This is the simplest way to advertise on Facebook. Boosted posts differ from Facebook ads because they are not created in Ads Manager and therefore don't have all of the same customization features. While boosting a post is still considered an ad, Facebook ads are created through Ads Manager and offer more advanced customization solutions. There are many advertising objectives to help you reach your specific business goals and the audiences you care about most.
3.    Different goals- Where a FB Ad Centre boosted post may initially optimize for Page likes, comments, and shares or overall brand awareness. Whereas, Facebook ads manager can optimize for app installs, website conversions, video views, shop orders and more.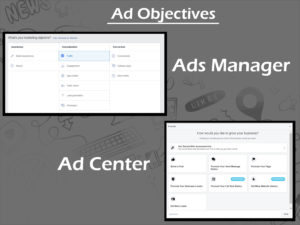 4.    Diff ad placements- Ad Centre helps you with Instagram placements but not more.But you can run Instagram Ads on Facebook Ads Manager.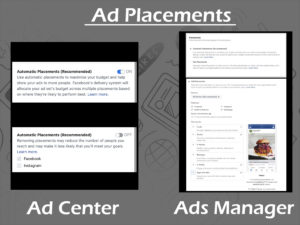 5.    You can also create and manage ads through the Ads Manager mobile app-Ad Centre does not have a dedicated app; instead, it lines on the inside of the Facebook App or pages app itself.
6.    Stronger creative control- Carousals, different size optimizations for different placements, add specific descriptions and add a call-to-action button that'll drive more of your audience to take action. It has the ability to create dark posts. 
7.    Use advanced targeting capabilities- Ad Center let you decide on interests, age, and gender for your ad targeting. This helps you reach people who most likely care about your business. With facebook ads manager, you can use more advanced tools to create overlapping audience types, lookalike audiences and more.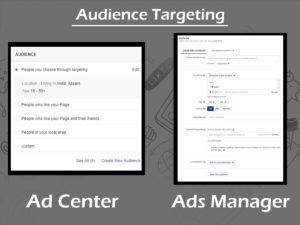 8.    Ease of management- Facebook Ad Centre is easy to create an Ad with minimalistic features. Moreover, you can get all the information in the Ad Centre Tab. While Facebook Ads Manager has got lots of features and it is not easy to manage like the Ad Centre.
9.    Advanced Metrics- FB Ads Manager provides us with a variety of metrics to look into, e.g.  CTC, CPM, CTR, Brand recall lift, etc. While Facebook Ads Centre doesn't provide us with lots of metrics, unlike Facebook Ads Manager. You can look into Reach, Engagement, Video Views, etc.
10.   Better control of Budget dispersal, more ways to look at disbursing budgets. Disbursements measure the money flowing out of a business and may differ from actual profit or loss. 
You can check out Ad Manager & Ad Center on- https://www.facebook.com/
Looking for someone to create a facebook business manager for you? We are here to help you out!
Make sure to get your free Social Audit- Contact us for Social Media Audit