Introduction to Social Media Marketing Agencies
According to a study conducted in 2021, more than 4.48 billion people are actively using social media worldwide. With this statistics in hand, any brand ignoring its revenue prospects from various social media platforms will be on a losing streak. It is about the high time you found your brand a versatile and efficient social media marketing agency to boost your digital presence.
Sprout Social says that only 55% of marketers look up the social data to understand their audience better. The kind of importance this places over finding the right social media marketing company for your business is utterly significant.
So, let's dive into it.
The main focus of a social media marketing agency is on creating, boosting and maintaining the social presence of the brand. There are two ways to do it; organic and paid. 
Organic way involves posting consistently on social media platforms with good captions and hashtags.  Optimizing through paid promotions involves  boosting and running paid campaigns through Facebook. 
However, many brands prefer using both the ways to drive traffic and obtain leads, sales or conversion. 
Why Do You Need a Social Media Agency?
This is a fair question to ask yourself. We are all on social media and not all of us have our social handles being managed by a social media management agency. So, how do you know when you are in need of a digital marketing manager?
If you are able to relate to the following concerns, your business needs to revamp its social media.
Your followers have either decreased or have increased insignificantly over the past few months.

Your posts have minimal or no engagement. 

You have incredible reach but no shares and likes.

You are only able to post once in a long while.

There are loads of pending DM's to reply to. 

Your  social media presence does not showcase your offerings, products or services that is impressive enough for your audience to hover over your posts or Follow button

Your brand is not well-known or its social presence is not appealing.

The post plans  and  social media campaigns are boring! 
If you have these concerns about your business' social presence, it is prudent for you to start looking for an agency. 
Find the Ideal Social Media Marketing Company in 5 Steps
If you explore the current market primarily, every other building houses a digital marketing company. And everyone of them claims to be an expert in social media marketing.  
These agencies get their content team to prepare social calendars and start posting every alternate day. This is a right marketing strategy on quite a basic level.  But, there are several other things to be checked off the list for a larger business. 
Understand the Agency's Approach to Content Marketing
Blindly posting everything regardless of what the target audience actually wants to see makes you look no less than a despotic dictator and guess what? Nobody likes a dictator. 
A good and efficient agency takes its time to do the research before it even makes a plan. Researching targeted audience, niche of the business, and several other aspects of content marketing. 
Ask the agency to show you case studies of previous work. Assess the reviews they have received from other clients.  
Take long enough time to examine the approach of the agency before approving it to handle your social media. 
Define Your Expectations from their Social Media Marketing Services 
The very reason you are hiring a digital marketing agency should not be neglected even a bit. Many business owners allow the agency to take full control of their social media. This is a blunder committed by companies very often.
Instead of giving the agency all the control, define your expectations from it. Since you understand your business better than anyone, you should be the one to tell the agency what would be right when it comes to social media marketing.
Decide on a frequency for the posts with consultation. 

Mutually discuss the target market for quality reach.

Ask for a strategy for paid campaigns at the earliest. 

Ask for weekly or monthly reports.

Enquire if they consider any form of influencer marketing
Curiousmind Consulting allows the clients to define SOPs for every role. This produces marketing strategies that quite match the clients expectations.
See if Their Social Media Strategies Work for You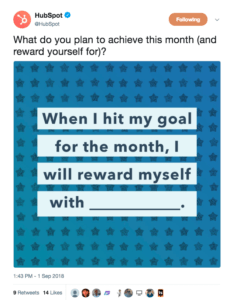 The above is an example of an engaging social media post. A post that fails to engage the audience is barely promoted by the algorithm.
Do their existing social plans and graphics examples for other clients excite you? If it doesn't look good to the eye, it cannot bring you any business. 
Social media is primarily about pictures, especially Instagram. According to a survey conducted in 2021, people engage more on Instagram than on Facebook. Therefore, the post plans, graphics, GIFs, Videos you post have to be attractive. 
This step will make you realize the credibility of the social media management agency in question. Take a while to go over to their clients' profiles and check out the posts. Assess the concept of the post if you can. 
If possible, ask to meet the graphics team of the agency. This will help you trust the agency better.
Enquire About the Team of the Agency
A team is what makes an agency's strategies work in the realm of social media. It is the ladder that the agency climbs to proficiency on. 
The social media team of an agency has a paramount role. From brainstorming an idea for a campaign to its seamless execution, it very much matters what everyone brings to the table.
This step will ensure that your brand's social media is in good hands. Hence, take your time to visit the agency and meet the social media team. 
Define Your Budget and Deliverables  for the Social Media Marketing
As a client, you should predefine a budget for the social media management agency to work with. Excluding the charges, keep your budget compact and fixed. 
Ask the agency to come up with an interesting strategy to execute with your budget. Remember, a result oriented social media marketing agency such as Curiousmind Consulting will always be able to strategize the approach to meet your Brand's voice and social media goals.
Takeaway
With a clutter  of  social media marketing companies, posts and  events  service providers, your social  presence has to stand out in an extraordinary  manner with the help of smart content creation tactics.
Apparently every other building houses a social media marketing company and they all claim different things. Each of these marketing companies will have a different approach to your business. It depends on which approach works for your business better. And to know that, you have to have some social media insights. 
Book a free consultation for your social media marketing at Curiousmind Consulting today. Get expert solutions to your business requirements. Get strategies and marketing services that actually work in the present market condition. 
Check out our blog on how you may be unable to generate revenues from your business website.
Mail us at Dipeeka Saboo